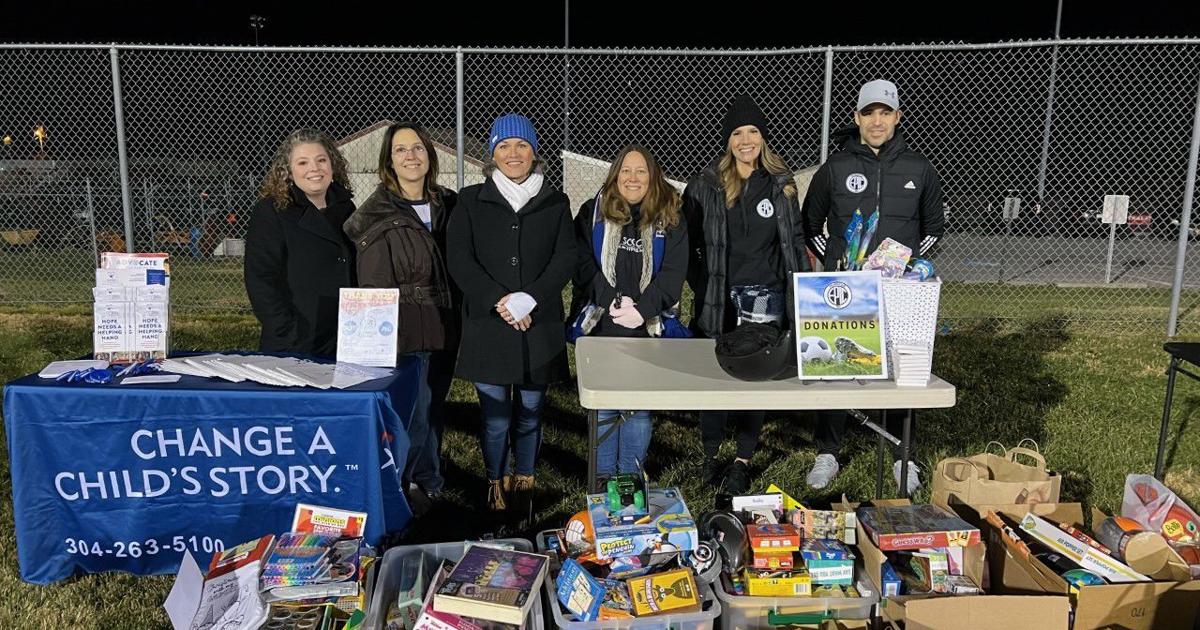 CASA-EP grateful for the generosity of the community with donations of books and toys | Newspaper
MARTINSBURG – Through a number of generous donations, CASA of the Eastern Panhandle will be able to distribute goody bags to the children it serves during the holiday season and beyond.
Court-Appointed Special Advocates (CASA) are court-appointed volunteers to advocate for a child's best interests in the justice system, many of whom have been victims of abuse and neglect, as well as in the justice system. foster family placement.
The first donation was made on December 7th by the EPIC Soccer boys' teams. They held a toy drive that evening on the lawn at Jefferson High to collect small items for the children at CASA, according to Julia Yuhasz, an outreach consultant for the CASA of the Eastern Panhandle.
A second donation was also made on December 7 by the Berk-Mar Garden Club. Yuhasz said the group also collected arts and crafts donations during their lunch to support local children at CASA.
Third, WV Read Aloud made an "amazing" book donation to CASA-EP, with a second donation in the spring.
"WV Read Aloud is donating books to CASA-EP this month, a kind of pilot program, as we seek to reach more children in the foster care system and help CASA volunteers connect. more deeply, "Yuhasz said. "WV Read Aloud contacted me earlier this fall to discuss a possible partnership, and this December is the first try."
On December 16, the group donated eight boxes of books to CASA volunteers to share with children ages 5 to 12. Yuhasz said that this series of books can be distributed before the holiday weekend, with the second series due to be distributed. at the end of the school year.
In total, the donations are expected to serve approximately 160 children.
"We're especially excited about this, because sharing a book together is a wonderful way for kids to show off their skills (where they might need help in school), their passions (the stories they love) , have an outlet (maybe escape from life as they know it), as well as establish a connection with their CASA (speaking of a favorite book or author), "Yuhasz said.
Bob Fleenor, of WV Read Aloud, said this partnership is perfect for getting more books into children's hands.
"We are looking for ways to connect with the community to fulfill our mission of putting reading material in the hands and the minds of young people in West Virginia," he said, adding that WV Read Aloud, so far has distributed many more. over 20,000 books.
It doesn't stop there. Fleenor said WV Read Aloud is also keen to continue putting books in children's hands, even after being placed in foster care.
"We want to continue our relationship with these children after they transition from foster care to their adoptive homes," he said. "We have a program called Read Aloud Families, which promotes literacy within families. We register children's households, and we send them books that they order. We also send reading activity sheets for adults and children to complete.
As families complete their books, they can order more than six rounds, Fleenor explained.
"We involve adults in children's literacy, as well as books in children's hands," he said. "Especially the children that CASA is involved with, these children don't have much – they have very few personal possessions. We have seen over the years that owning something, especially something as personal as a book, that helps educate them and serves as a way of escape, is a precious thing.
"We love the expressions on the kids when we hand them a book about theirs. "
In addition, these donations will allow CASA-EP to launch something it has long wanted: to provide bags of activity gifts to children and youth served by CASA volunteers.
"The way it works is that the volunteer will be able to 'go shopping' and bring gifts to the child for the first time they meet – on their birthday or on any other occasion," Yuhasz said. "They can periodically come and choose from games, books or toys and share them with their child CASA during their monthly or fortnightly visits.
"We're very excited about this because we know that this small gesture can really help volunteers create a comfortable environment, while also building closer bonds and a sense of security. Especially with toddlers, that little distraction from playing with PlayDoh or Legos can be a welcome distraction and easier to talk to, just like books.
Yuhsaz said that CASA-EP is grateful to these groups and many others who support the work of the organization.
"It has been an incredibly generous and humbling giving season for our community, seeing so many groups supporting the work of CASA volunteers in this unique way," she said. "Everyone approached CASA-EP to ask them how they could help and want to connect with the mission. "
She went on to say that CASA volunteers become a constant in the lives of these children.
"Sometimes it's just in the little things – reading a book or building Legos or playing PlayDoh together – that an advocate can really get to know a kid and share their life," she said. "These donations may be small items, but they are powerful tools for a CASA volunteer who wants to connect and spend time with a child who has been the victim of abuse and neglect. It can take months to prove to a child that you really are there for them and that you won't leave them like so many others have.
"Books, toys and games help build trust through play and help volunteers discover each child's unique talents and interests. This bounty of resources could last CASA-EP for a year or more, which is a powerful resource as we try to serve more children in our community.
WV Read Aloud and WV CASA could extend this statewide to other CASA programs, and Yuhasz said they hoped the Eastern Panhandle chapter could help develop this framework to do so.
"State organizations CASA and WV Read Aloud both saw this as a natural solution for the missions of our respective groups. We hope that CASA-EP will be a starting point for similar CASA / Read Aloud partnerships in the state, "said Yuhasz.