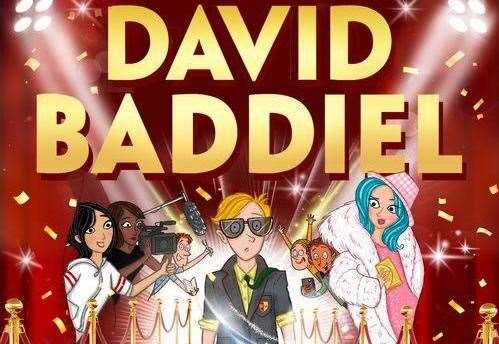 David Baddiel launches November children's book reviews
One of the few encouraging facts to come out of the last year is that reading numbers for adults and children have increased, says CAROLINE FRANKLIN, children's book reviewer at @newburytoday.
Before lockdown, numbers for children had hit all-time low, but now there has been a positive boom as the happiness of curling up with a good book is rediscovered. May this continue for a long time.
So Christmas is approaching and we are told that books are among the many things that can suffer from transportation issues this year. However, the stores will still have good stocks of books that the children will enjoy receiving this Christmas. I often mention that my office is full of books. This has never been truer than it is now. So let's move on to look at a few of them and give you some ideas for your Christmas gift shopping list.
Billy is just an ordinary boy – a very ordinary boy. When a large television company comes to its school to film the students, everyone shows off and inventing exciting lives. Billy doesn't care. Nevertheless it is Billy who is chosen to be a star just because of his banality and before long he is on Facebook, etc, etc with hundreds of followers. Then the TV company decides to film Billy's family – because they're just plain ordinary. All of this means that Billy might have the chance to meet Sunshine De Marto, the coolest star in the world – and, wonder of wonders – he does.
At David Baddiel The boy who got famous by accident he asks the question: "What if everyone suddenly knew your name?" And the answer to that is that fame comes at a price – as Billy finds out. A laughing book with a message for any young reader who envies what happens to the very ordinary Billy. Age range: 9-11
Posted by Harper Collins at £ 12.99
Amelia has a soft and cozy jacket with shiny buttons on the front. She wears it everywhere – until one day she can't squeeze in anymore and it's gone for her friend, Lily. Lily adores it and wore it and carried it everywhere until one day – you can guess what will follow.
Eventually the jacket, old and worn and faded, is pushed into a corner of the closet and forgotten, but it still has uses and this lovely little story happily ends. Jacket by Sue-Ellen Pashley with illustrations by Thea Barker is a sweet and heartwarming story to read to a little person who can have their own jacket.
Age Range: 3
Published by Walker Books at £ 7.99 (PB)
Constancy in peril is the story of a doll that has the annoying habit of putting itself in danger. Whether she's stuck on top of a tree, left out in the rain, nearly losing an arm, or being swept away in the jaws of the family dog, Constance is always saved. Eventually she is swept away by a river and this time she surely has, so to speak, had it! No, of course not, because there has to be a happy ending.
The Disasters Happening to Constance have kid-friendly artwork and this simple story by Ben Manley and Emma Chichester Clark is one that will appeal to very young people.
Age range: 3-5.
Posted by Two Hoots at £ 12.99 (HB)
The pretty blanket of A song in the mist isn't the only good thing about this gripping tale of a little panda, a boy, and a flute. Chi, the shy little panda, lives in a forest "between coniferous trees and bamboo leaves". She hears a sound, a flute being played by a little boy, but runs away when she sees him. It is only when the boy is lost that she finds the courage to save him and they become friends.
What I particularly like about this story is the use of painting words – the sound of the flute "floats on the breeze, wraps around the trees, bridges the water". Such descriptions conjure up images in the mind of the young reader as well as hazy and charming illustrations. A delight to share with a young child.
Age range: 4-6.
Published by Oxford University Press at £ 11.99 (HB)
Sunday Funday is a large, brightly colored book that offers ideas for nature activities for every weekend of the year. In addition to more familiar activities such as growing beans in a jar, spring activities include sewing a mini wildflower meadow and doing yoga exercises.
Summer is coming and there are ideas to organize a mad hatter's tea party and adopt a fart rock (more interesting than it sounds!). make pomanders, plant a tree and make a chum pine cone. These are just a few of the many activities to keep kids busy on rainy and sunny weekends throughout the year.
Some things need an adult to help and there's some safety advice too, but it's a fun, well-illustrated book with great ideas, often innovative.
Age range: 7 -11 years old.
Pposted by Nosy Crow at £ 16.99 (HB)
In Polly Pecorino, the girl who saves animals author and illustrator Emma Chichester Clark has produced a story that is sure to become a classic. Not only does Polly save the animals, but is able to talk to them and understand what they are saying. Her uncle Stan works at the local Happy Days Zoo, but the owners, Mr. and Mrs. Snell, are all about making the money, not making sure the animals are well fed and cared for. Stan does his best and often takes Polly with him. Together they do whatever they can, but it's still a sad place and the animals are miserable.
Then the Snells steal a baby bear thinking they'll make a lot of money from selling tickets – which they do, but Polly knows something needs to be done to bring the hapless little bear back to her family. in the Wild Bear Woods. But is she brave enough – and what about other animals… ..? It is a book that will become a favorite of its reader, animal lover or not.
Age range: 9-11.
Published by Walker Books at £ 10.99 (HB)
---
---