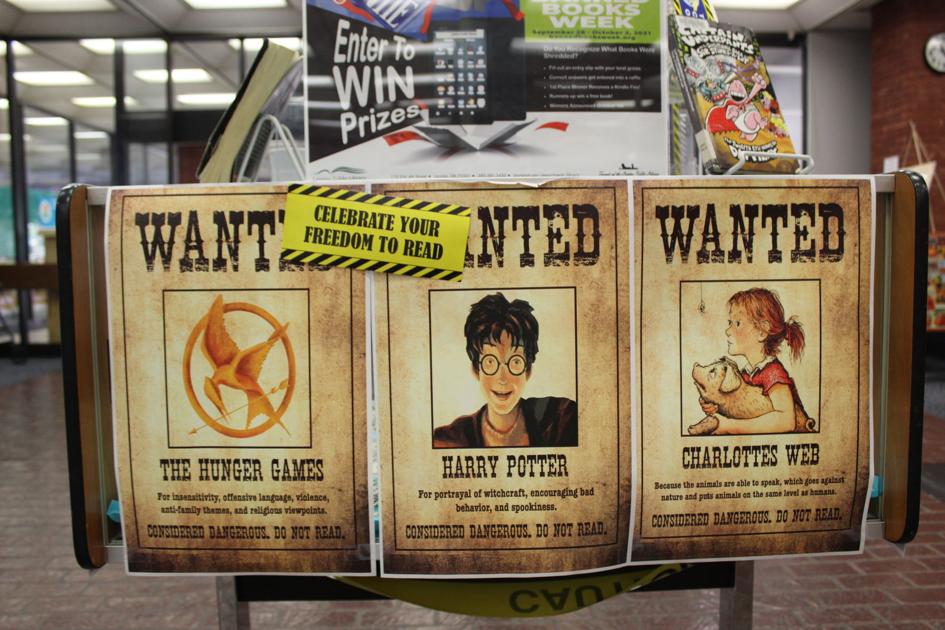 Freedom to read celebrated during Library's "Forbidden Book Week" | New
To an outside observer, it may seem odd that a library is celebrating something called "Forbidden Book Week".
Lawton Public Library director Kristin Herr can understand the confusion.
"I've always found it a little awkward to call it 'Forbidden Book Week' because we really don't celebrate forbidden books," Herr said. "We celebrate the freedom to read without books being banned or restricted. "
"Forbidden Book Week" has been observed annually in the United States since its initial launch in 1982 in response to an increase in the number of disputed books in schools, libraries and bookstores.
This year's theme for the week is "Books Unite Us, Censorship Divides Us".
"This year's theme is spot on," Herr said.
Every year books are contested or banned by private groups and governments across the country. The disputed content is labeled "controversial" or "objectionable" and these entities attempt to remove the books from public access, Herr explained.
Freedom to read is essential to American democracy, according to the American Library Association's "Freedom to Read" statement, which the Lawton Public Library board approved.
"We, as individuals devoted to reading and as librarians and editors responsible for disseminating ideas, wish to assert the public interest in preserving the freedom to read," the statement said.
The Lawton Library has not received any challenges for books in the past year, according to Herr, who said the types of challenges change over time.
"I'll tell you that Dr Seuss' books from earlier this year sparked quite a conversation across the country and even here at the Lawton Public Library. Our library board discussed the books at two board meetings. We haven't removed the books from our collection, "Herr said.
Seuss' books have a history of challenges, with "The Lorax" being one of the most frequently contested books according to the American Library Association, which publishes an annual report on the most banned and contested books.
In 2020, the association's Intellectual Freedom Office identified 156 challenges. The ten most contested books for 2020 included: "George" by Alex Gino, "Stamped: Racism, Anti Racism, and You" by Ibram X. Kendi and Jason Reynolds, "All American Boys" by Jason Reynolds and Brendan Kiely , "Speak" by Laurie Halse Anderson, "The Absolutely True Diary of a Part-Time Indian" by Sherman Alexie, "Something Happened in our Town: A Child's Story about Racial Injustice" by Marianne Celano, Marietta Collins and Ann Hazzard, illustrated by Jennifer Zivoin, "To Kill a Mockingbird" by Harper Lee, "Of Mice and Men" by John Steinbeck, "The Bluest Eye" by Toni Morrison and "The Hate U Give" by Angie Thomas.
Some of the reasons cited behind the challenges of the books on the list include conflict with a religious point of view; contains "selective storytelling incidents"; thought to promote anti-police views; claimed to be biased against male students; sexual references; language that divides; racial insults; racist stereotypes; sexually explicit; and blasphemy.
For its part in the celebration, the library is giving away a Kindle Fire to the first winner of a shredded book competition. Participants must correctly guess which book was shredded and placed in a transparent jar.
"Words have power and having access to various ideas makes us all more powerful," Herr said.