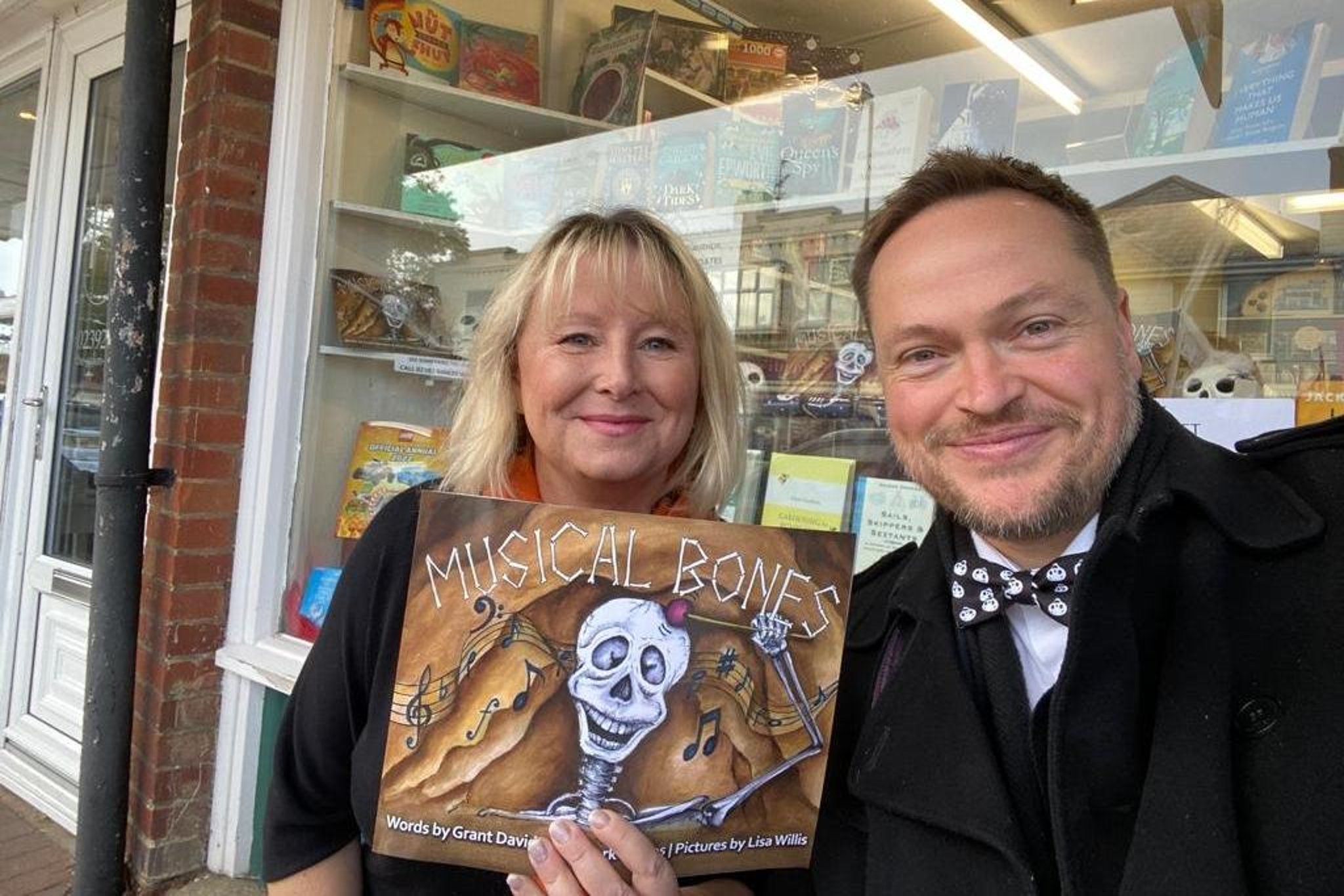 Hayling Island teacher writes children's book about music-loving skeleton
Musical Bones was released on October 25 by Mark Coates, 47, Grant Davidson, 44, and Lisa Willis, 50, who call themselves "The Three Teachers" because they all teach different subjects.
The book tells the story of Sidney, a skeleton passionate about music.
It was written by childhood friends, Mark, professor of English at Hayling College, and Grant, professor of music.
Lisa Willis and Mark Coates with a copy of Musical Bones
Read more
Read more
The former University of Portsmouth carpenter and international horror writer has finalized …
It was illustrated in watercolor by Mark's partner Lisa Willis, who teaches art at Thornden School.
Mark, who is also a trainer at the Heart of Hayling Boxing Club, said: "Grant and I used to write songs together in college, but previously we only wrote books for our own children. and our pleasure. "
The book was discovered by publisher Burton Mayers after Grant decided to make a YouTube video on Musical Bones in 2018.
The authors signed copies of the book outside the Hayling Island Bookstore today
Mark said, "He just saw the video and loved it and said he wanted to post to us.
"No one expects these things to happen – for someone to find out about you – and especially in our old age."
The book has received over 1,000 pre-orders, including from the Barnes and Noble bookseller.
Mark said: "It surprised us how it took off.
"We expected it to sell only a few hundred copies to family and friends.
"We are really excited. It's a huge thrill. I really enjoy signing and sending copies to people, although the best part for me is definitely that people send pictures of their kids reading the book and laughing. It is the greatest joy.
Musical Bones is a rhyming book for readers ages 8 to 12.
Mark added: "He is inspired by Julia Donaldson but is a little more mature.
"It's pretty unusual because it's a little harder than other rhyming books out there – there's a lot of cultural capital and all kinds of complex words.
"It's also great for enriching children's vocabulary. We have made loads of educational resources on this. We're just smashed to pieces.
Iris Reah, 10, read the book herself and said, "It's neither too long nor too short, so you can read it before bed without falling asleep in the middle.
"I loved it and thought the illustrations were amazing."
Mark explained that the book's message to young readers is also inspired by the late Ken Robinson that you just have to find your element.
He said: "Sidney is a bit of an underdog, but his element is music – you just have to find what you can do.
"It's a cliched but dignified message that no one is good at everything but everyone is good at something. And as soon as you find it, you go.
A message from the editor, Mark Waldron
You can subscribe here for unlimited access to our online coverage, including Pompey, for 26p per day.