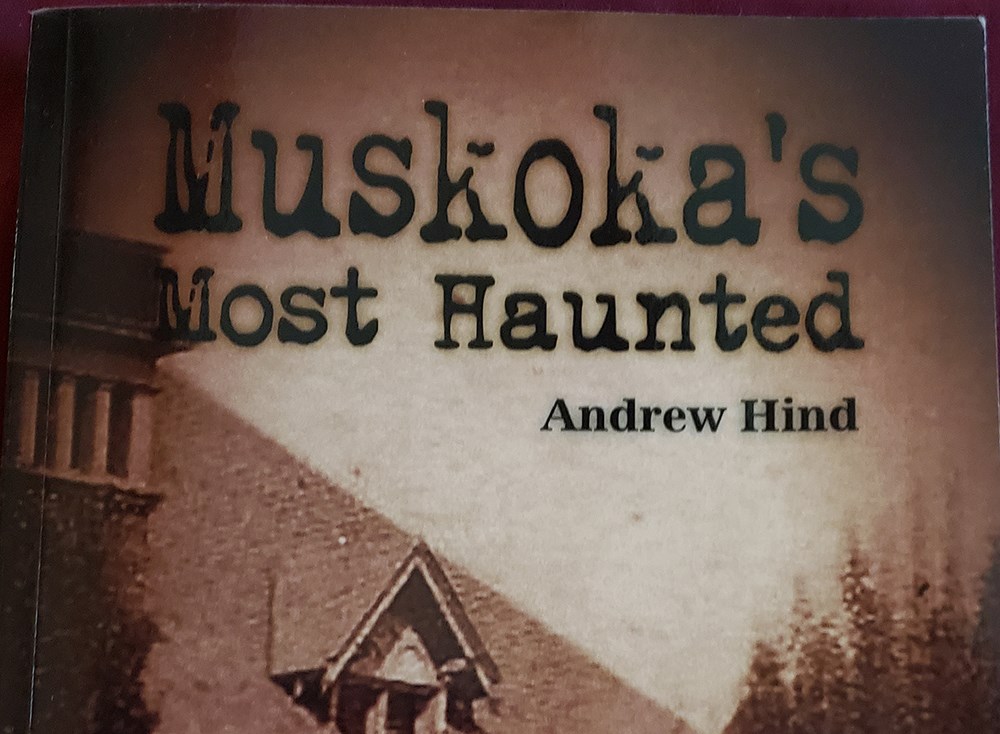 Some of the spooky Muskoka stories shared in the author's latest book
Just in time for Halloween, historian Andrew Hind shares ghostly tales of cottage country
A cool October evening, a cozy fire and a good ghost story… it's the perfect antidote for stressful times.
Readers can thank local author Andrew Hind for providing yet another escape from the mundane with his latest book, Most Haunted in Muskoka.
Both historian and author, Hind's mission is to record Ontario's forgotten past, from the tales of once thriving ghost towns to those of some of Muskoka's finest resorts.
But, he says, there's another side to Muskoka – "One of the shock noises and strange mists, whisperings bleeding through the walls and restless appearances."
Throughout her travels and research, Hind has encountered many whispered stories, of ghostly visitors from the past who seem to continue to share historic spaces with residents and occasional visitors to the area.
Among his 27 books are other collections of ghostly tales, written with former co-author Maria Da Silva, which chronicle hauntings in Ontario.
Most Haunted in Muskoka covers a number of eyewitness stories and eyewitness accounts left "undisclosed" in previous books – combining ghost stories with historical detail, and even travel information for anyone interested in experiencing the unexplained on their own .
"It wasn't difficult at all to get people to want to discuss their ghost experiences. People seemed eager to share, "he says.
Rather than having to chase after stories, "in many cases I have been approached by people who wanted to share their experiences."
Some tales have been in his archives for years, waiting for the right time and the right book.
Hind brings a scholarly spirit to a topic more commonly shared around a campfire.
"Although I'm primarily a historian, I love to write ghost stories. They are an opportunity to share a bit of history with someone who might not have read a history book otherwise – and writing ghost stories requires using a different part of the brain, so it's a refreshing challenge, "he says.
Hind obviously enjoys his forays into the "other side". Prior to COVID, he led "ghost tours" to places that included Muskoka Heritage Place, home to the original "Hill House", which he calls "the most spiritually active building in the recreated Pioneer Village."
It was built by Robert Norton Hill, a minister from Schomberg during the first half of his career, who was inspired by the offer of free land to settlers to move north to Muskoka in 1867.
Hill founded the Hillside Post Office in 1878 and died in 1895, but he and his wife Caroline remain a ghostly presence in their preserved two-story frame house.
From the Bracebridge Public Library to the Gravenhurst Opera House – "every opera house needs a ghost, after all," he notes – to resorts and private homes, Hind has collected stories of experiences ghostly.
Most are only malicious, with teasing poltergeist activity. Others apparently reflect past tragedies. And at least one tale includes a ghostly rescue.
A photographer, precariously balanced on a rock at Rosseau Falls, was surprised by the touch of a ghostly hand. He ran up the slope and looked back just in time to see a huge tree branch sweeping over the boulder where he had stood.
So sit back, curl up in front of the fire and enjoy Most Haunted in Muskoka, as the October winds howl – and maybe plan a trip to the Inn at the Falls in Bracebridge, where "customers refuse to go."
Built by John Adair in 1876, it was purchased the following year by William C. Mahaffy, son of Dr. Mahaffy of Bond Head. Lawyer and judge, WC Mahaffy died in 1912. The house fell into disrepair but was renovated into a Holiday House in the 1940s by Ernie and Marion Allchin, and after a series of owners, bought by Bill and Sylvia Richardson, who named it 'Auberge aux chutes.'
Ghosts include a young Ojibwa girl seen in the field, a former owner in a striped sweater, a crying woman who is believed to have died after falling down a staircase, several mischievous children – and Judge Mahaffy, clad in the suit. from the 1890s.
Visitors can smell his cigars, although the inn is non-smoking – but why not book a room and see for yourself?
Some of the haunting stories are well known. Others are shared for the first time. One thing is certain, the country of chalets will never be the same again.
Locally, Most Haunted in Muskoka is available on Amazon.ca. The illustrated paperback, which sells for $ 25, is also available at Birchbark in Bala, Rosseau General Store, and Artisans of Muskoka. A portion of the sales go to Muskoka Heritage Place.
"Museums, like so many businesses, have been hit hard by the pandemic, and I wanted to give back to one of my favorites," says Hind.
As for his ghost tours? "Everything is still pending. There is interest in a return to the Inn at the Falls and / or Muskoka Heritage Place, but nothing concrete is planned.
For now, the book will do.